The Products in US Stock Only Free Shipping to USA.
Canada and Mexico Customers need to pay the extra delivery charges, Please contact our customer service in advance.
Customers in Other Countries Please Click Here to Order:
/products/31027/food_saver_vacuum_sealer_machine_with_15_vacuum_bags.html

Food Saver Vacuum Sealer Machine with 15 Vacuum Bags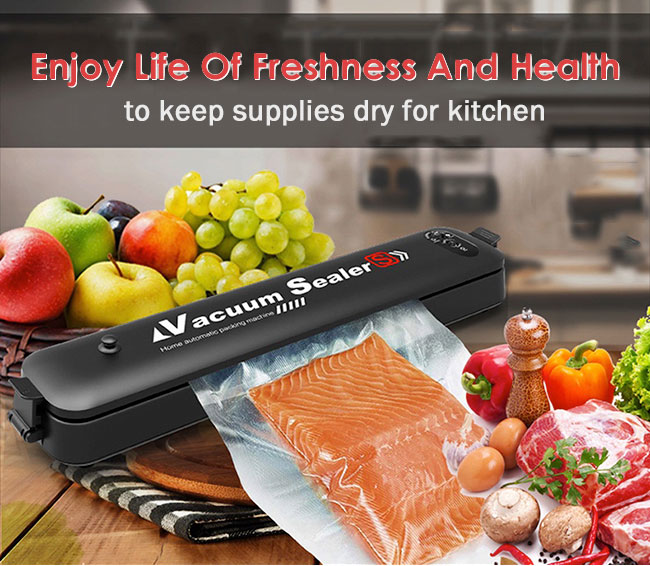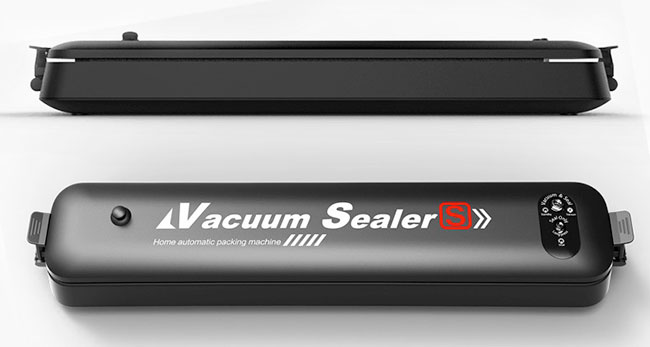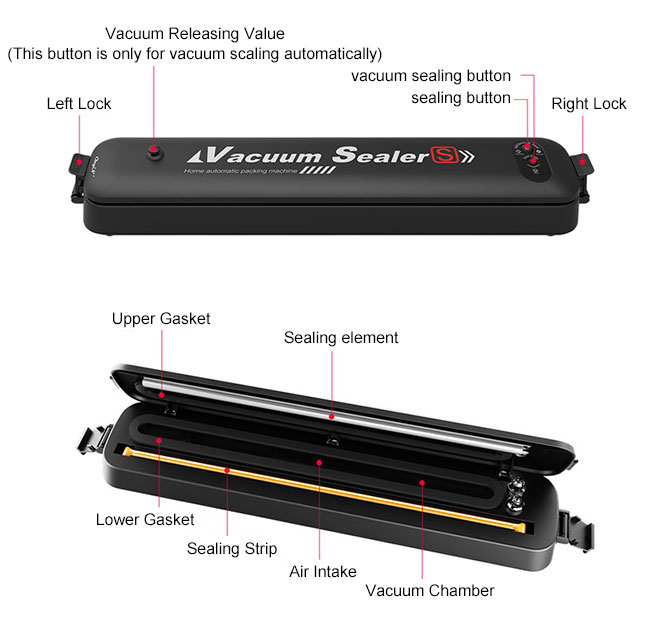 Features:
The updated vacuum sealing system upgraded sealing technology adopts constant inverter temperature for sealing stability and efficiency.
The multifunctional vacuum sealer it can maintain the freshness of fruits, nuts, meat, sweets, and vegetables, preventing foods from getting the burnt, molded, and spoiled freezer.
The instant operation-separated buttons (for sealing and vacuum) design with LED indicator lights keep hands-free and effective operation.
The user-friendly design bottom case is waterproof, waterproof, outdoors air ventilation, and low noise feature together make it safe and comfortable to use.
Complete home kit great kitchen gifts for people who enjoy life. 15 bag free vacuum bags are included for your convenience and pleasure.
5 levels of protection over-pressure, lack-pressure, empty plumping protection, inverter and voltage recognition.
1) Strong suction.
2) Undamaged seal.
3) Wide voltage inverter, constant temperature sealing technology: can work normally between 95-250V, 50-60 Hz
4) Waterproof design: lower seal box design, updated thickness, and insulation mainboard for safe use.
5) Sealing Glue Pad: In the track design, preventing the unstable situation around the sealing area.
6) Outside air vent: even if the liquid like oil is mistakenly sucked, it can be output out for dry and safe use.
Food Vacuum Sealer only, other Accessories demo in the picture is not included.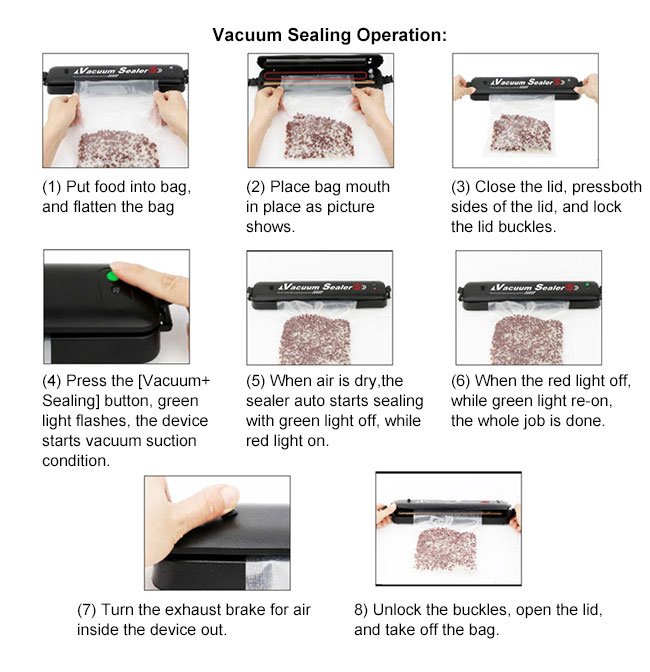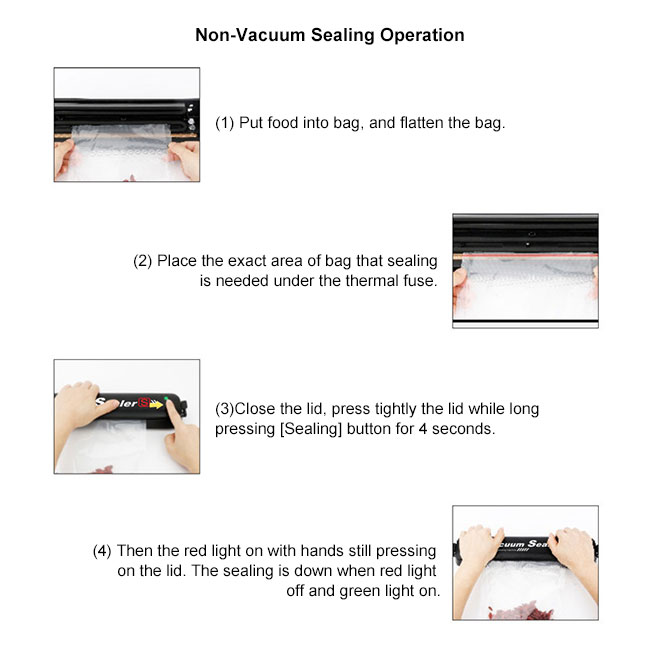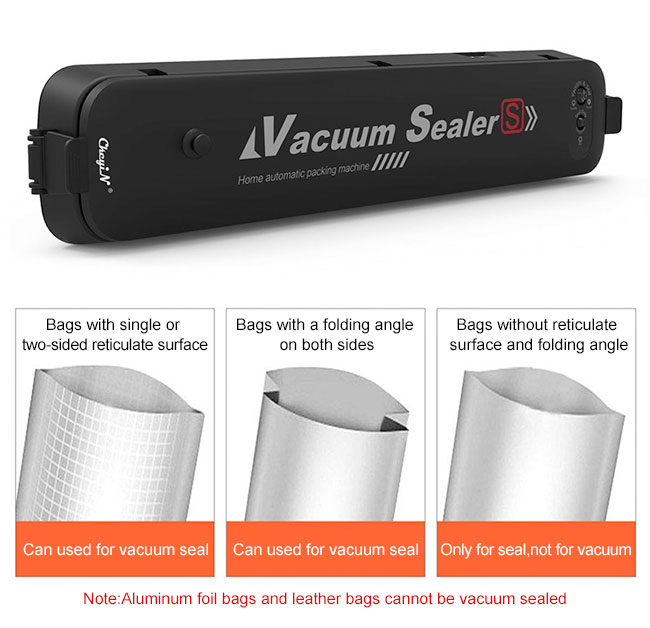 Tips:
1.Vacuum sealing need to place the packaging bag mouth in the black sponge ring of the vacuum machine.
2.This vacuum sealer is only suitable for solid objects and cannot be used in vacuum liquid, oil and water powder products
3.Vacuum sealed need to leaving at least 5 cm of space between the contents of the bag and the top of the bag.
4.You should probably clean the vacuum sealer after each use to avoid bacteria.
5.Do not pack items such as fish bones and hard shells, as spiked items may penetrate and tear the bag.
Cleaning and Maintenance:
1. Always unplug the unit before cleaning the appliance.
2. Do not immerse it in water or any other liquid.
3. Do not use abrasive cleaners to clean the unit, as they will scratch the surface.
4. Wipe the outside of the unit with a damp cloth or sponge and mild detergent.
5. To clean the inside of the unit, wipe away any food or liquid with a paper towel.
6. Dry thoroughly before using it again.