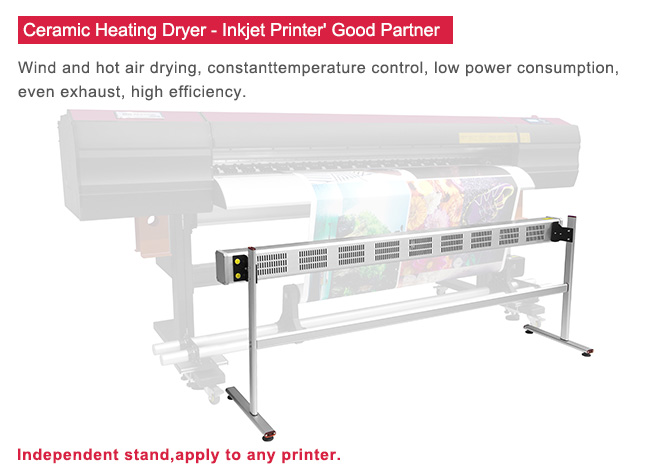 Increase your printing output with faster drying times!
Generally, the printers have their own drying sections, but in normal situations, such own drying section can not dry completely (e.g. large volume of ink printed, rapid printing, rain season, humid area). So an external drying system to help medias dry fast is required.
Avoid wasted time and money from ruined projects and waiting for your prints to dry, instead boost your productivity and your business with the ceramic heating print dryer, your must-have tool to complete prints faster. Compatible with all solvent and eco-solvent printers, the ceramic heating print dryer is the ideal match for your machine.
This printer dryer can be put in front of printer without connecting, equipped with independent stand, apply to any printer. It can dry the graphics quickly before rolling up, avoids the damage of the picture quality when rewinding because the printing ink is not dry and sticking together.
Applications:
Apply to any large format inkjet printers, such as Roland FJ740 / RA640 / RS640 / RF640 / VP540 / SP540 / FJ540, Canon, MUTOH VJ1938 / VJ1604 / VJ1638 / VJ1304 / 900C, MIMAKI JV33, EPSON 9700 / 9100 / S30680 / GS6000, HP and Chinese printers, etc.
Applied Materials:
Water-based printing materials, such as portrait cloth, PP, adhesive stickers, photographic paper, film, ect..
Eco-solvent printing materials, such as car stick, lamp cloth, leather, wall paper, soft film ceiling, ect.
Sublimation printing materials, such as transfer-paper, fabric textile, ect.
Features:
• Rapid and complete print-job drying with powerful 2000W module.
• Even and consistent drying with a uniform heat distribution across any kind of media.
• Wind and hot air drying, even exhaust, low power consumption, high efficiency.
• Adopts Ceramic heating module, constant temperature control, stable, safe and long lifespan.
• Sturdy, not fragile for long distance transportation.
• Module disassembly for replacement, easy to clean and maintain.
• Independent stand, conveniently move.
• Flexibility from machine to machine with a compatibility range including almost any wide-format printer.
• CE certification.
Specification
Model
HGQ-JXH6-64
Max. Working Width
1600mm (64in)
Working Mode
Wind & heat air in - one
Voltage
220V, 50Hz, 9A
Working Power
2000W
Drying Temperature
45 - 50℃ (113 - 22℉)
Sunction Areas
9 suction areas
Machine Size
1850mm x 225mm x 600mm (72.8in x 8.9in x 23.6in)
Net Weight
12kg (26.4lbs)
Carton Packing Size
1950mm x 190mm x 265mm (76.8in x 7.5in x 10.4in)
Gross Weight
14kg (30.8lbs)
Remark: Both input and output voltage is 220V, please use voltage transformer if your voltage is 110V.

Details: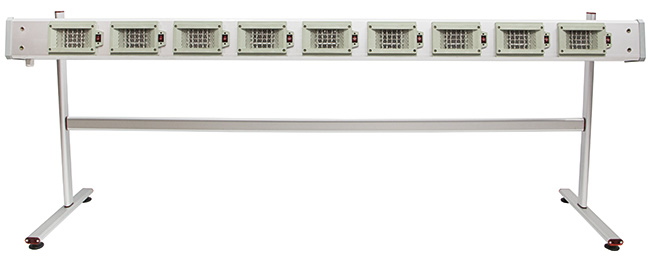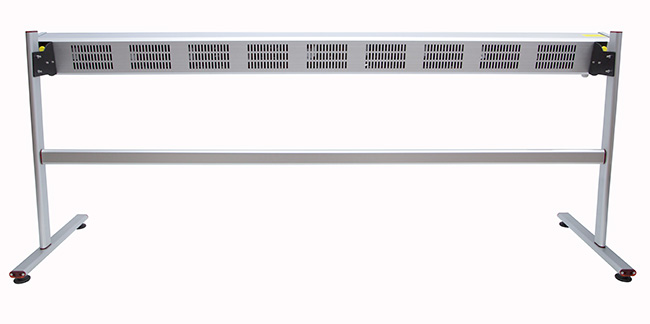 A: Sectional Controllable Thermostat: Closely arrayed air outlets,ensure even exhaust. Hot air possibly controlled in section, constant temperature, fast drying.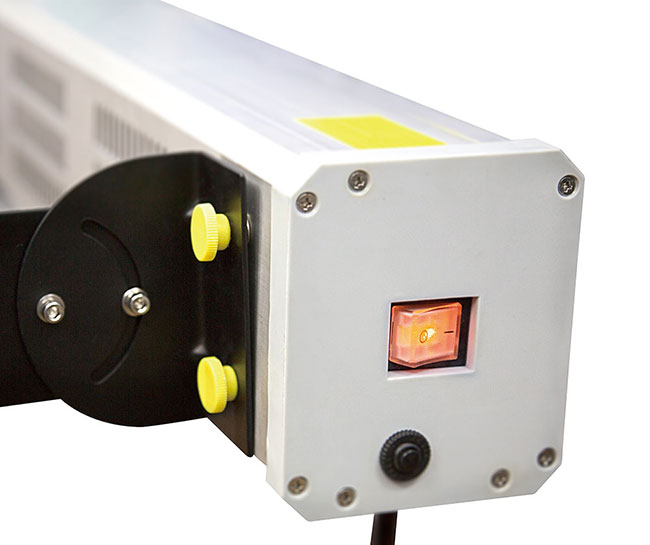 B. Elegant design of air intake: Appears fashionable and practical.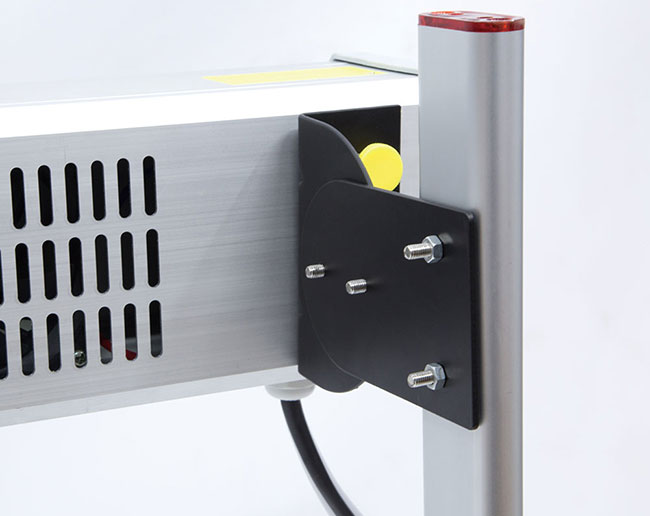 C. Heating Module: The ceramic heating module can be disassembled independently, easy for cleaning and maintenance.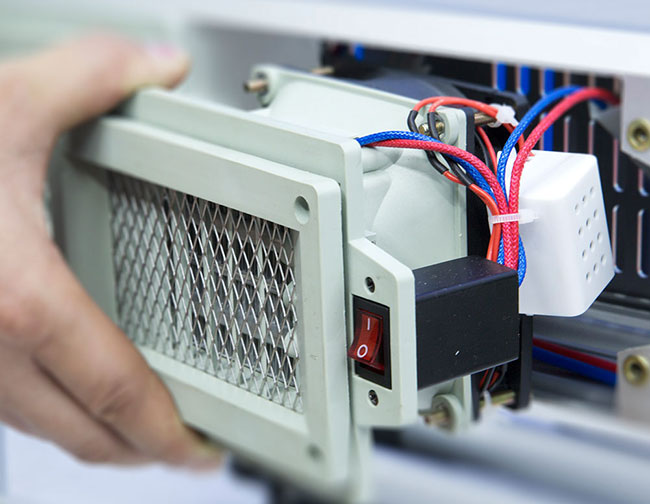 D. Separated Switch: The normal air or hot air, each has its own switch which realizes normal temperature air drying mode to dry media when hot air is not required.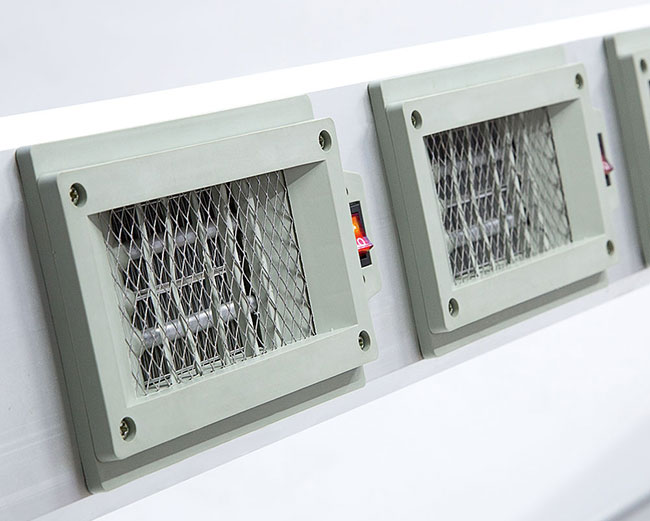 At present, we supply two kinds of heating dryers, one is ceramic heating module (model H6), the other one is far infrared quartz tube heating (model H7), and both models are available in normal and hot airs (possible to use solely normal or hot air).

Customer's Case:
I'm Robert from United States .I have a printing company in my city. I have bought 2000W 64in Ceramic Heating Dryer System from www.sign-in-china.com on 11th, November 2019.
It deliveries to us so fast, when I receive them, I was shocked by them, working fast and perfect.
My printer is 54in Mutoh VJ1604, the dryer is 64in, but it doesn't affect the use of it. As the dryer has Sectional Controllable Thermostat, hot air possibly controlled in section, constant temperature, fast drying.
Thanks again for your help & support, and we look forward to do more business with sign-in-china again in the future!